I've searched the internet for news.
So you don't have to.

Kings Of Leon Return!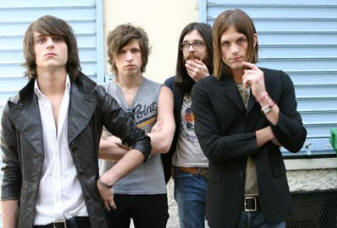 Southern-rock outfit Kings of Leon will offer up its third album, "Because of the Times," April 3. The forthcoming set follows 2004's "Aha Shake Heartbreak."

"On Call," the first single from "Because of the Times," will be available from the iTunes Music Store beginning Feb. 6, and will hit radio stations Feb. 12, according to a press release.

I'll post some mp3's as soon as I get my hands on them.


****

The Beautiful South have split up after 19 years together.
The band rose from the ashes of The Housemartins, two of whom, Paul Heaton and Dave Hemingway, formed the outfit in 1988.
The Beautiful South scored their first hit in 1989 with 'Song For Whoever' , which reached Number Two. They then scored their only Number One single in 1990 with 'A Little Time'.
They also had three Number One albums - their hits compilation 'Carry On Up The Charts' in 1994, 'Blue Is The Colour' (1996) and 'Quench' (1998).
The band issued a statement explaining the split saying: "The Beautiful South have split up due to musical similarities. The band would like to thank everyone for their 19 wonderful years in music."
****

The Shins storm Billboard chart...
Wincing The Night Away has debuted at Number Two on the Billboard chart!
They sold 118, 000 of their third album and were beaten to the top spot by boy band Pretty Ricky.
The album marks the highest chart placing ever for a Sub Pop album, beating the record set by Afghan Whigs album 'Black Love' which reached number 79 is 1996, reports Pitchfork.
The band are set to play the Shockwaves NME Awards show on February 25 at London's Astoria.
****


Band Of Horses will re-enter the studio
this March to record the rather-very-much-anticipated follow-up to last year's rather-very-much-adored debut Sub Pop LP Everything All the Time.
According to a post on the Band's website, they'll shack up in Asheville, North Carolina's Echo Mountain Recording to lay to tape a "brand spanking new BOH album of songs." No word quite yet on what those songs will sound like, but Horses do happily report that San Diego-based photographer Christopher Wilson (whose work adorned Everything) will provide artwork for this release as well.
After canceling last year, Band of Horses will honour their appearence at this years ATP festival at Butlins in Minehead, Somerset. Other acts playing are Modest Mouse, Grizzly Bear, Sparklehorse, Echo & the Bunnymen. For the full line up click
here.
****

Arcade Fire cover The Clash.
Arcade Fire covered The Clash at the third of their week of London shows last night (January 31).
The Canadian band, performing their final night at St James' Church in Westminster, started their set in similar fashion to the previous night by going into the middle of the crowd to perform acoustically. But instead of playing their own 'Wake Up', they performed a mandolin-led acoustic version of The Clash track, a Paul Simonon number which appears on their 1979 classic 'London Calling'.
The band then took to the stage and kicked off the set proper with forthcoming single 'Keep The Car Running'. Most tracks were lifted from forthcoming album 'Neon Bible', including 'Black Mirror', 'Intervention', 'Windowsill' and 'Ocean Of Noise'.
Arcade Fire did find time to play tracks from their debut album 'Funeral' - 'Rebellion (Lies)' and set closer 'Neighbourhood #1 (Tunnels)'.
The set was:
'The Guns Of Brixton'
'Keep The Car Running'
'Black Mirror'
'No Cars Go'
'Black Wave/Bad Vibrations'
'Windowsill'
'The Well And The Lighthouse'
'Ocean Of Noise'
'Rebellion (Lies)'
'Intervention'
'(Antichrist Television Blues)'
'My Body Is A Cage'
'Neighbourhood # 1 (Tunnels)'
The band now head for Porchester Hall in the west of the city to play two sold-out shows tonight and tomorrow (February 1, 2).
'Neon Bible' is released on March 5, with a single, 'Keep The Car Running', following on March 19. They return to the UK as part of a sold-out European tour.
Order the new album direct from Merge Records as either a CD, Deluxe CD or Vinyl. The deluxe CD version is packaged in a hinged box with two 32-page flip books designed by the band. The Vinyl is double 180-gram audiophile quality with three sides of music and an etching on the fourth side. The LP also includes a coupon for a free MP3 download of Neon Bible.
The deluxe edition preorder will have a special price of $15 through March 6 ($2 off!). Preorders will be shipped to arrive on or around the release date March 6, 2007!

All preorders will receive free with purchase a Neon Bible poster and other assorted goodies!
I ordered a deluxe CD the other day, and with shipping it comes in at just under £10. Bargain!
Pre-order your copy
HERE
.
****


Download Cold War Kids live session
Cold War Kids bassist Matt Maust could barely muster the strength to lift his feet the two long flights of stairs up into the studio on this day just two weeks ago. They'd gotten on the road early that morning, coming from Chicago, where they'd opened for Mates of State the night before. The Mates were playing a post-Lollapalooza show while the Kids were playing something more along the preview lens.
[Read more]
[MP3] Cold War Kids - God Make Up Your Mind
[MP3] Cold War Kids - Hospital Beds
[MP3] Cold War Kids - Passing The Hat
[MP3] Cold War Kids - We Used To Vacation
The bands new single
Hang Me Out To Dry
was released on Monday (29th January). Its getting a fair bit of radio play at the moment and deservedly so. Even though the album is patchy this has to be one of my favourite singles of the year so far.
****

I've re-uploaded The Line Of Best Fit Playlist 2006. It proved pretty popular but unfortunately the previous link expired. It is now stored permanately so feel free to grab it. Its a 17 track mix of my favourite tracks from last year.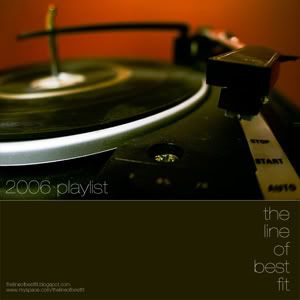 Tracklist:
01.Consolation Prizes - Phoenix
02.Black & Blue - Tim O'Reagan
03.Fire In The Sky - The Hazey Janes
04.Where Are You Go Go Going To? - Loney, Dear
05.7/4 (Shoreline) - Broken Social Scene
06.Be Good Or Be Gone - Fionn Regan
07.The Crane Wife 3 - The Decemberists
08.Low Happening - The Howling Bells
09.Eyes on the Prize - M. Ward
10.Waiting for the Time to Be Right - The Brother Kite
11.Black Swan - Thom Yorke
12.The Jeopardy of Contentment - What Made Milwaukee Famous
13.Let's Get Out Of This Country - Camera Obscura
14.There Goes My Outfit - The Dears
15.The Hope Edition - My Latest Novel
16. ABC - The Pipettes
17.Head Home - Midlake
Download it by clicking
here
****
A recomendation made me check out Ox - American Lo-Fi, released last year independently its an absolute classic. Below is an article printed in American magazine Vue Weekly. Also you can download the albums opening track in the downloads section at the bottom of this post.
For more info and to buy the album visit the official Ox website
here
.
When Ox released their debut album a couple of years ago, there was a distinctly familiar feel to the music. Many of the reviews made reference to the similarities between Ox and the work of Neil Young, Bruce Springsteen and others in the Americana fold.
Singer Mark Browning says that he has no problem with those reviews, though—partly because he considers a comparison to Neil Young to be lofty praise, and partly because the similarities were intentional nods from a band staking their ground before striking out on their own.
With their new album, American Lo Fi, Ox leaves the comparisons behind, as the band's own sound overshadows their influences.
"I really felt good about it," Browning says, recalling the album's recording. "When we were tracking it, I felt like we were really onto something that sounded like us. I didn't want it to end; so I extended the sessions so we could finish what we were doing and get that statement onto tape while we were in the zone."
While the band was in that zone, they let the songs guide them, rather than trying to plan out the completed album beforehand. They finished up with nearly 30 songs before choosing the 11 that worked best together for American Lo Fi (some of the others will see the light of day on the band's third album, which they plan to release next year).
"You never know where your record's going to go when you step into the studio," Browning offers. "You've got a few songs that you're pretty sure you've got to get on the record, because they sort of define where you're going at the moment, but other than that you never know which songs are going to work and which songs aren't going to work. So you've just got to have a lot of them, and you've just got to play and see how it goes in the studio. It becomes like another performance, but it's happening in the studio. The band sets up, and you just play live and see what happens."
Browning explains that the result of that approach was to allow the band to experiment and explore different songs until they found their own sound. And while there are still whispers of Browning's influences deep inside the music, it's no longer an easy matter to describe Ox with nice, tight little Neil Young references. In an industry where the record labels tend to gravitate towards acts who are easily marketable, Browning admits that Ox's evolving sound might make the business side of the game a little tougher for the band—they recently had a grant application turned down by VideoFACT, who actually said that they don't know how to handle the Ox aesthetic—but he's not about to alter his songwriting so that it fits into a popular mould, suggesting that there's something to be said for remaining true to one's independent spirit when it comes to creating music.
"That's what rock 'n' roll's all about," Browning exclaims. "That's how rock 'n' roll started, that's how it was always at its best, and that's how it's going to continue to be great. Fitting into commercial radio formats is not how we want to make music.
"There's just not enough money in this business to do something that you don't believe in," he continues. "If the industry doesn't know what to do with us, that's the good news. I remember someone saying that if you're parents like what you're doing, then you're doing something wrong, as far as rock 'n' roll goes. I guess it's kind of a similar idea to that."
Ox's music has grown without the band sounding like they're chasing popular trends mainly because that's exactly what they won't do. They want to make the music that interests them, carving out a career on their own terms.
While some musicians put together an album and then hold themselves back while they wait for a major label to come along and give them a truckload of cash and put them on the road with a big band—in effect, waiting for their careers to start—Browning has a different outlook.
"I realized one day when we were on the road, the career has already started," he reflects. "With each record we're gonna keep trying to define whatever it is we're trying to define, and we're gonna stumble along the way somewhere. I'm sure we're going to make some bad records as we go along, or there are going to be some bad tracks that, for some reason, we need to put on the record. When you're making records you've got to just put them out and then make the next one and keep going."