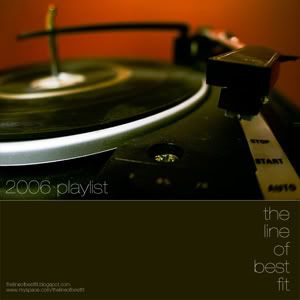 A Christmas present to you all. As this will be the last post of the year I thought i'd treat you all...

The Line Of Best Fit: 2006 Playlist is a 17 track compilation of my choice picks of the year. There is something for everyone here so feel free to grab it. I hope you enjoy! Merry Christmas!

Tracklist:

01.Consolation Prizes - Phoenix
02.Black & Blue - Tim O'Reagan
03.Fire In The Sky - The Hazey Janes
04.Where Are You Go Go Going To? - Loney, Dear
05.7/4 (Shoreline) - Broken Social Scene
06.Be Good Or Be Gone - Fionn Regan
07.The Crane Wife 3 - The Decemberists
08.Low Happening - The Howling Bells
09.Eyes on the Prize - M. Ward
10.Waiting for the Time to Be Right - The Brother Kite
11.Black Swan - Thom Yorke
12.The Jeopardy of Contentment - What Made Milwaukee Famous
13.Let's Get Out Of This Country - Camera Obscura
14.There Goes My Outfit - The Dears
15.The Hope Edition - My Latest Novel
16. ABC - The Pipettes
17.Head Home - Midlake

Download it by clicking here.