Three minute blasts of power pop with more hooks than you can shake a stick at and great shared vocals from all three band members; ex-Everclear drummer (don't let that put you off) Greg Eklund, his brother Mark and Olivia (Ollie) Stone. Whats not to like?

First and foremost, lets get this straight. By no means is this debut album perfect, in fact part of me feels it would be better as an EP or mini-album. You see, the twelve tracks here offer the listener nothing new in terms of orginality, in fact it helps that the tracks alternate between Eklund and Olivia as the whole thing otherwise would end up being quite samey. From the leading single "TV Dinner" and onwards through "Cahuenga Shuffle" and "Octopus," you start to feel that the formula has reached a point where Stone's breathy drone (a cross between Metrics' Emily Haines and a punkier Jenny Lewis) begins to sink under the weight of samey-ness and the songs start to sound quite forgettable.

But underneath it all there are moments of real greatness here, in particular "Small Parts" which on the surface sounds like a summery-pop gem but underneath tells the tale of a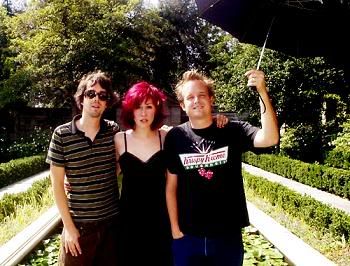 relationship breaking down, with the lyrics "The decay of a former stone heart / Distributed into small parts / Now I cease to glow I cannot function anymore" isn't as happy go lucky as the rhythm section would suggest. You can't help but hum the chorus either with its "ahhhhh ahhhhh Dont go out the backdoor / ahhhhh ahhhh Thats what the fronts for / Chew me up & spit me out / I can't take anymore - Hardly what you'd expect from a summer anthem but it works perfectly. Other highlights include the opening tracks "Gone" & "Tripped", the latter featuring a melody again sung by the real star of the record Ollie, with her instantly likable vocal that wouldnt sound out of place on a Rilo Kiley record.

All in all this is an impressive debut which (with no fault to the band) really should have been released several months ago, to cash in on the heat of the summer.

Visit the bands myspace page here.