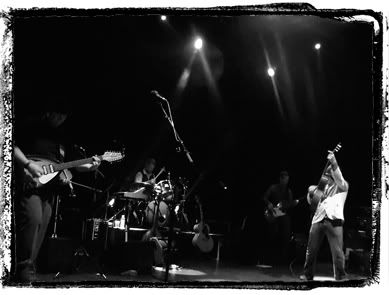 Thursday night saw The Decemberists play an outstanding show at the Shepherds Bush Empire. Playing to a sell out crowd the band put on a good two hour set - Colin was in fine humour and interacted with the crowd really well. The main event occured in the first encore when the band were joined by Robyn Hitchcock and Mike Scott from The Waterboys.

The setlist went something like this:

The Crane Wife 3
The Island:
Come And See / The Landlord's Daughter / You'll Not Feel The Drowning
Billy Liar
We Both Go Down Together
The Engine Driver
Yankee Bayonet
Shankill Butchers
O Valencia!
16 Military Wives
The Crane Wife 1 & 2
Sons & Daughters
***
Eli, The Barrow Boy
Madonna of the Wasps (with Robyn Hitchcock)
Fisherman's Blues (with Mike Scott)
***
A Cautionary Song (including a re-enactment of the Boston Tea Party)
Supporting the band were LA 4-piece Lavender Diamond who play quirky indie pop, certainly worth further investigation - their myspace page is
here
.
I was pleased to discover my pictures have been mentioned on The Decemberists tour blog over on Gigwise. Check it out
here

.
Fellow blogger and friend Richard Hughes, who, unfortunately was unable to attend the show has review the new album over on CD Times. Like myself, he thinks its rather good. Read all about it
here
.
The pick of the best pictures are below in a couple of slideshows - enjoy...
Lavender Diamond:




The Decemberists:


Also a couple of videos I found on YouTube....
Sons & Daughters [with Audience members]
Some crowd aerobics......
16 Military Wives