Hi and a happy 2007 to all of you. Admittedly a slight delay in getting this thing back up and running after christmas. This is mainly due to my Mac breaking down thus losing EVERYTHING, having a stomach bug, but mainly just enjoying being a Dad. Anyhoo, there are a couple of things worthy of a post so here goes.

First off, Wilco have finally given a release date for their new album. According to frontman Jeff Tweedy the title is "Sky Blue Sky" and will be released on May 15th. I'll post more news on this as I get it but so far track titles include; "On and On and On," " The Thanks I Get" "Walkin'," "Impossible Germany," "What Light," "Let's Fight," "Either Way" "Let's Not Get Carried Away," "You are my face," "Patient with Me", "Sky blue Sky," "Shake it Off," and "Side With the Seeds." The bands drummer, Glenn Kotche has said that some of the new songs were written on the spot in the studio by the band as a whole, as opposed to Tweedy fleshing out the song and bringing it to the rest of the band.

In other Wilco related news, the side project of members John Stiratt and Pat Sansone"The Autumn Defense" released their third self titled album on January 9th. Its certainly more of the same laid back indie rock and could be accused of simply being background music but its well worth checking out. Its certainly their strongest set of songs to date with the stand out tracks being "Where You Are" and "We Would Never Die" which features a stunning guest guitar solo from Nels Cline.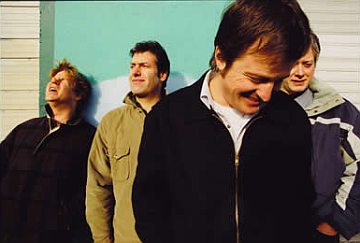 The tragically underated Portland, Oregon band Richmond Fontaine return with their new album "Thirteen Cities" released on 5th February on Decor records. This could well be the album that betters the classic 2004 release "Post To Wire". Its a perfect blend of Pedal Steel driven country rock mixed with the stark acoustic led story telling of the bands previous effort "The Fitzgerald". This could be one of the front runners for album of 2007 for me. The band are set to tour the UK in February. The venues are all tiny, especially Leicesters The Musician which only holds around 150 people. If you're at a loose end you wont want to miss out on seeing these guys.

Click here for the tour dates in full.

Download Barely Losing from Post To Wire here.




Brand New - The Devil And God Are Raging Inside Me
Sometimes the only excuse for listening to an album is because it has a great cover, the bonus with this was that it had a great title too. If loud guitars float your boat and you feel a little bit emo (and lets face it, we all have a bit of emo inside us) then this is for you. It was released in November of last year and completely past me by...
Heres what allmusic.com have to say about them:
"When Brand New released Deja Entendu in mid-2003, it caught a lot of their fans off guard. It found the band taking a stylistic leap forward from the clever pop-punk of their 2001 debut, exploring expanded sonic textures and indie rock overtones, their urgent choruses tempered by acoustic musings and softer introspections. It all seemed very deliberate, yet completely natural all the same, and the record was an underground smash. Something even more substantial was definitely brewing beneath the band's emo façade, and as a result, Brand New's follow-up was hotly anticipated for the three years it took the band to release it. The resulting The Devil and God Are Raging Inside Me is the completion of their pop-punk molting process and one of the best surprises -- that isn't really a surprise at all -- to come out of 2006" - All Music Guide

You can preview tracks from the album over on the bands myspace page.

The band are currently on tour and hit the UK on the following dates:

2/5/07 - Guildhall, Southampton, UK
2/6/07 - Apollo, Manchester, UK
2/8/07 - Academy, Newcastle, UK
2/9/07 - Academy, Glasgow, UK
2/11/07 - Academy, Birmingham, UK
2/12/07 - Uni, Cardiff, UK
2/13/07 - Hammersmith, London, UK
2/15/07 - Tripod, Dublin, Ireland

In case you havent already noticed there are now RSS feed links on the right hand side of the site. Which basically means you can check out the latest headlines from NME.com and Pitchfork. Plus a whole load of reviews from the excellent CD Times.

Finally here are just a few albums released in the imminent future that are well worth checking out. Some ive heard the entire album, others just a select few tracks.

January
23/01/07 Broken West - I Can't Go On, I'll Go On
23/01/07 David Vandervelde - The Moonstation House Band
23/01/07 Earlies - The Enemy Chorus
23/01/07 Field Music - Tones of Town
23/01/07 The Shins - Wincing The Night Away
30/01/07 Clap Your Hands Say Yeah - Some Loud Thunder

February
06/02/07 Bloc Party - A Weekend In The City
06/02/07 Jesse Sykes & The Sweet Hereafter - Like, Love, Lust, and the Open Halls of the Soul
06/02/07 Loney, Dear - Loney, Noir
20/02/07 Explosions In The Sky - All Of A Sudden I Miss Everyone

March
06/03/07 Air - Pocket Symphony
06/03/07 Arcade Fire - Neon Bible
06/03/07 Bright Eyes - Four Winds EP
06/03/07 Gruff Rhys - Candylion
06/03/07 Jesse Malin - Glitter in the Gutter
20/03/07 LCD Soundsystem - Sound of Silver
20/03/07 Willy Mason - If The Ocean Gets Rough